Hello and a very warm welcome to the website of EDDIE SIMPSON BULK HAULAGE.

We are a family run haulage company based in the village of Thropton in rural Northumberland specialising in the transportation and delivery of decorative gravels, road and rockery stone and chippings throughout the UK.

We also transport coal, grain and potatoes, In fact, If it's in bulk - we can deliver it!

Being a family firm we never loose sight of the specific needs and requirements of our customers. Every detail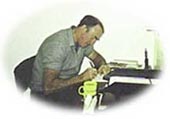 is discussed and planned with you the customer, to ensure we offer the very best service available.
At Eddie Simpson Bulk Haulage we are constantly striving to make our business more efficient, which in turn has made us one of the most competitive haulage companies in the United Kingdom.
Contact us today for a no obligation, friendly quotation, we think you'll like doing business our way!